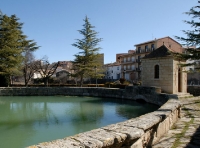 The Fuente de Cella (the Cella Fountain) is an artesian well, probably the work of the Templars, settled in this town after the Reconquista at the end of the 12th century by the troops of King Alfonso II. Originally, the Fuente was probably an excavation carried out on a small pre-existing spring in order to maintain its flow during one of the frequent droughts of that time.
However, its current appearance is the result of the reform carried out by the Italian engineer Domingo Ferrari between the years 1729 and 1730. It has an elliptical shape (major axis of 34,83 m and the minor of 24,23 m) and has two caves at both ends of its major axis, through which its water is poured into two irrigation canals. Inside, they look like two large 'mouths', excavated in limestones.

The flow of the Fuente de Cella is greatly influenced by the variations in the rainfall regime of the Sierra de Albarracin. During dry periods, it decreases drastically and to the contrary, after a period of rain it soon recovers. It is usual that flows above 2000 l / s (173.000 m3/d) alternate with periods in which the spring dries up. For the period between 1974 and 1992, its average flow was 600 l / s (52.000 m3/d), which means an average annual discharge of 19 million m3 / year. Along with the spring of Ojos de Monreal, the Fuente de Cella is thus one of the largest outbursts of underground water in the province of Teruel.

From the local information tablet (in Spanish).