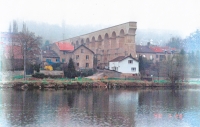 To cross the river Moselle, the aqueduct of Metz (north of France), a 1.100 m long bridge was built between present Ars-sur-Moselle and Jouy-aux-Arches equipped with a double channel. Now only some arches on both sides of the river are still present. Above are the restored arches in Jouy. Photo: Driek van Opstal
Central section of the Oued Bellah bridge, lower tier, part of the aqueduct of Cherchel (Algeria). Notice how the vertical edge stones aside the arches have fallen off, destabilizing the bridge. This two-tier bridge, directly on the main road, was originally 288 m long and 26 m high, longer than the Pont du Gard! The bridge is now a sorry sight. The ruins are remains of the first tier, with stumps of the pillars of the second tier rather inelegantly sticking out.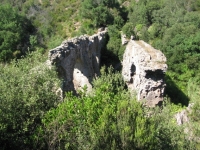 In the valley of the Reyran (aqueduct of Frejus, south of France), the subsoil was so unstable that in this area almost all Roman aqueduct bridges were supplemented by a second one.

Some 1800 years later (1959) and in the same area, the barrage 'de Malpasset' broke down; over 400 people were drowned.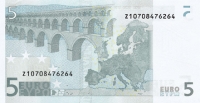 A five Euro bank note depicting the Pont du Gard, one of the bridges in the aqueduct of Nimes (south of France). The opposite side shows a drawing of the Gate of Hadrian in Athens (Greece).
Longest Roman Aqueduct Bridges
The famous Pont du Gard (aqueduct of Nimes, France) bridge is the highest known Roman aqueduct bridge (see separate entry) but by far not the longest.
Most of the bridges in the list below are in ruin.
Aqueduct bridges - with only one, or two, and some even with three tiers - are often confused with arcades (see separate entry). Essentially an arcade was built to cross a swallow depression, an aqueduct bridge was constructed to make a short cut, to prevent long detours.

One aqueduct bridge (the Pont du Gard of course) is depicted on an European € 5 bank note, see picture.

The longest Roman road bridge is the one in Merida (Spain): the Puente Romano of 790m crossing the Rio Guadiana.

| Name aqueduct | Length (m) | Literature | Remarks |
| --- | --- | --- | --- |
| Metz, Ars - Jouy (France) | 1.100 | Adam 1984, Jolin 1981 | |
| Aspendos (Turkey) | 1.000 | Adam 1984 | Mainly siphon bridge |
| Constantinople, Bozdogan Kemeri bridge | 971 | Crow 2008; Garbrecht 1962: 625m | 'Valens aqueduct' |
| Segovia (Spain) | 818 | Adam 1984 | Also listed as arcade |
| Pergamon, Madradag / XXV (Turkey) | 700 | Garbrecht 1992; Fahlbusch 1982: 600m | |
| Pergamon, Karkasos / XIII | 550 | Garbrecht 1992; Fahlbusch 1982: 530m | |
| Nimes, Pont du Gard (France) | 360 | Burdy 1998, Chanson 2002d | |
| Cherchel, Oued Bellah (Algeria) | 288 | Burdy 1998 | |
| Tarragona (Spain) | 220 | Burdy 1998 | The so-called 'Punte del Diablo' |
| Constantinople (Turkey) | 149 | Crown 2008; Burdy 1998: 175m | Called: Kursunlugerme |
| Cherchel, Chebet Ilelouine (Algeria) | 136 | Burdy 1998, Adam 1989 | |
| Constantinople (Turkey) | 135 | Crown 2008, Burdy 1998 | Called: Buyukgerme |
| Constantinople (Turkey) | 130 | Crown 2008, Burdy 1998 | Called: Kumarlidere |
| Chartage (Tunisia) | 126 | Burdy 1998 | Oued Miliana |
| Constantinople (Turkey) | 80 | Crown 2008; Burdy 1998: 75m | Called: Kecigerme |
| Constantinople (Turkey) | 77 | Crown 2008; Burdy 1998: 75m | Called: Balligerme |
| | | | |
---
---