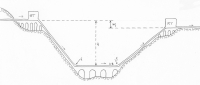 The main principle of a siphon in an aqueduct was a pipe descending to the bottom of a depression or valley and climbing up the other side to almost the original level in order to prevent long detours.
HT is header tank (inlet), RT is receiving tank (outlet), VB: Venter bridge, H is the depth of the the siphon. HG mean hydraulic gradient, the loss of height of the water flow over a certain distance.
Part of the Cadiz aqueduct (South of Spain), rebuilt along the highway IV between Puerto Real and San Fernando; these blocks were used for the pressurized section. This is the 'male 'side.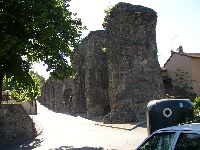 West side of the venter bridge at Beanant of the Yzeron siphon in the Gier aqueduct of Lyon (France). Some internal arches were closed because of stability problems. Length of the bridge: 270 m, over 7 m wide and max. height 18 m. Depth of the siphon: over 122 m (!)
Deepest siphons in Roman aqueducts
The main principle of an aqueduct was a pipe descending to the bottom of a depression or valley and climbing up the other side to almost the original level. The water was then again transferred into an open conduit following its original course, see drawing left.

The deeper the valley, the deeper was the (static) pressure in the pipes at the bottom. A siphon in a valley of 10m deep contains a water column of the same height which exerts 1 atmosphere extra pressure. The siphon in the Greek (!!) Madradag aqueduct of Pergamon (Turkey) crossing a valley of 190m deep caused a pressure of some 19 atmospheres in the lead pipe, a pressure which equals that in 'modern' steam engines.

This pressure could cause severe problems, especially in lead pipes. In the eastern provinces of the Empire ceramic or stone pipes were applied, but even than leakages must have been common practice.
Apart from piped systems there is one known example of a closed masonry channel: the siphon in front of the desert fort of Alexandrion (Israel) (Garbrecht 1994 pag 169, Amit 2002 pag 306)
| Name aqueduct | Depth (m) | Literature | Remarks |
| --- | --- | --- | --- |
| Pergamon, Madradag (Turkey) | 190 | Hodge 1992, Kessener 2001,2004 | |
| Smyrna (Turkey) | 158 | Weber 1899, Kessener 2001,2004 | |
| Lyon, Gier (France) | 122,3 | Burdy 1996, Kessener 2001,2004; Smith 1976 & White 1984: 123,5m | Yzeron (Beaunant) |
| Alatri (Italy) | 101 | Fahlbusch 1982, Kessener 2001,2004 | |
| Lyon, Gier (France) | 93,5 | Burdy 1996, Kessener 2001,2004; Smith 1976 & White 1984: 92,7m | Garon (Soucieu) |
| Rodez (France) | 91,5 | Smith 1976, White 1984 | |
| Lyon, Yzeron (France) | 91 | Burdy 1991, Kessener 2001,2004 | Craponne II |
| Lyon, Brevenne (France) | 90 | Burdy 1993, Kessener 2001,2004, Smith 1976, White 1984 | Ecully (Tassin) |
| Lyon, Gier (France) | 79 | Burdy 1996, Kessener 2001,2004; Smith 1976 & White 1984: 82,4m | Dureze (Genilac, St. Denis) |
| Lyon, Mont d'Or (France) | 70 | Burdy 1987, Kessener 2001,2004; Smith 1976 & White 1984: 64,1m | Des Planches (Ecuilly) |
| Laodikeia ad Lycum (Turkey) | 50 | Kessener 2001,2004 | |
| Aspendos (Turkey) | 45,0 | Kessener 2001,2004 | |
| Termini Imerese, Barratina | 40,0 | Kessener 2001,2004 | |
| Lyon, Gier (France) | 38 | Burdy 1996, Kessener 2001,2004; Smith 1976 & White 1984: 47,3m | Trion (St. Irenee) |
| Lyon, Yzeron (France) | 33 | Burdy 1991, Kessener 2001,2004 | Craponnen I |
| Lyon, Mont d'Or (France) | 30 | Burdy 1987, Kessener 2001,2004 | Limonest (Cotte-Chally) |
| Oinoanda (Turkey) | 22,0 | Stenton 1986, Kessener 2001,2004 | |
| Lyon, Brevenne (France) | 20 | Burdy 1993 | hypothetically |
| Patara (Turkey) | 20 | Kessener 2001,2004 | Delik Kemer |
---
---