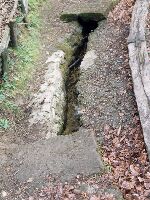 1. Source
There are many ways to get (ground)water into an aqueduct. The most common ones are: 1. Spring boxes and well intakes, 2. Infiltration galleries, 3. River intakes, 4. Dams.
Springs were the commonest source for roman aqueducts. River intakes were used occasionally (often because of fear of pollution). Artificial created lakes as a source were rare although they could have been used to equalize the variations in the seasonal flow rates of the feeding spring.

Photo: Infiltration gallery at Grüner Pütz, one of the sources of the aqueduct of Köln (Cologne, Germany).